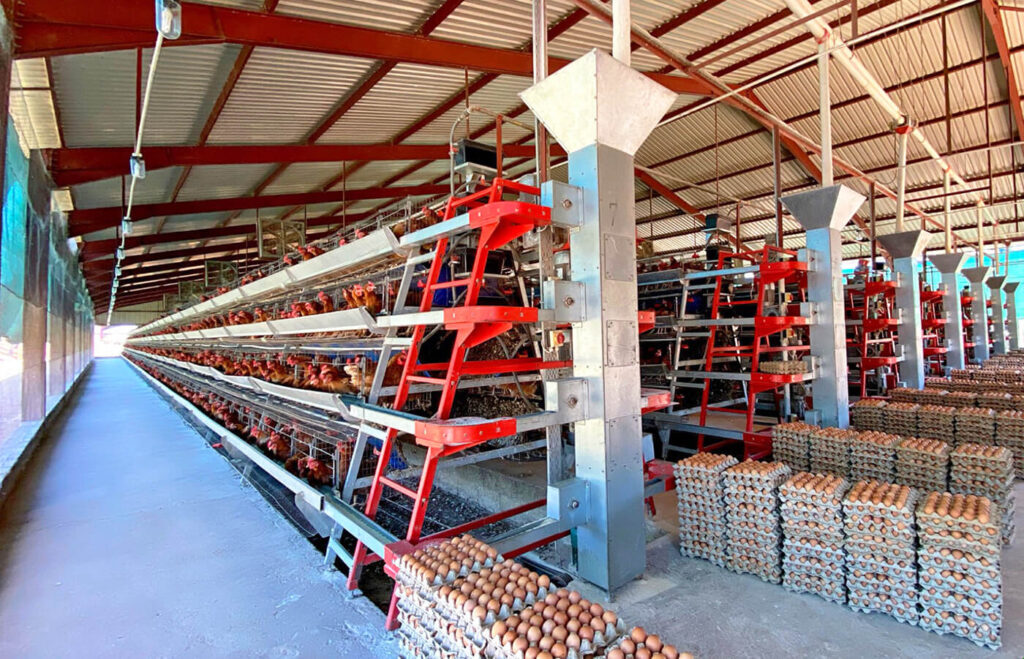 Our poultry division is centred around the production of high-quality eggs.
With daily production exceeding 180 000 eggs currently, Mutanda Farms is one of Zambia's largest producers and by utilising industry leading technology and a progressive, modern approach, we are producing eggs of the highest standard. The quality and freshness of our eggs is widely recognised and attracts customers and resellers, from all around the country.

In order to guarantee full control of the quality of our product, Mutanda Farms sources the best possible raw materials, which are utilised to produce our feeds, all in house. Two of the major components of our feeds are maize bran and low-fat soya. Our maize bran, which is produced in house, as a by-product of our maize meal production, originates from rigorously selected, locally sourced or internally produced, maize, while the low-fat soya we utilise, is mechanically extracted in our soya plant and comes from locally produced and sourced, high quality beans.
We employ a skilled team, led by qualified professionals, which guarantees us above average production performance and a quality product for our customers and the end consumer. We are constantly evolving to improve our products and performance and utilise the knowledge and expertise of a number of internationally acclaimed advisors to improve our product quality and on-farm productivity, while also limiting the potential negative impacts of disease and negative fluctuations in our production.

We pride ourselves on maintaining strong bio-security and safety in our operations, and maintain a strong record in both aspects. We place a great deal of attention on continually improving our bio-security measures and this has allowed us to ensure we are producing eggs of the highest quality and freshness, whilst maintaining the health and wellbeing of our chickens.
Our eggs are marketed and distributed under the King Eggs brand and are currently available throughout the majority of the North-Western and Copperbelt provinces of Zambia.
Our sales team is available to assist you, should you be interested in our products, and thanks to a modern, advanced fleet of trucks, we are able to offer logistics solutions that can deliver products to your door!